Click to thumbnail to select


0
0
(0 Reviews)
Write a Review Here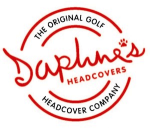 Authorized Dealer
Daphne's Reptiles & Amphibians Headcovers Details
Have some fun and show your lighter side by clothing your driver in Reptile or Amphibian Headcover from Daphne's, the industry leader in novelty headcovers. These headcovers are found on the bags of professionals around the world as a way to show some personality. Make your own statement of individuality by putting a Daphne's headcover on your bag.
Constructed from highest quality materials
Guaranteed for life
Adds individuality to your golf bag
Best protection and value
Fits up to 460 cc driver
Daphne's Reptiles & Amphibians Headcovers Reviews
Thanks for taking a moment to learn about our "Verified" designations.
We employ verification processes to build credibility and promote product reviews.
Verified Buyer
An individual who has purchased the reviewed item from our company and submitted their review using a process that verifies purchase history. This designation ensures the actual buyer is reviewing the purchased item.
Verified Reviewer
An individual who has confirmed their email address using our validation process. This designation ensures that product reviewers are using their real email addresses.
Product Q & A
Is this for a wood?
Sunday, July 20, 2014 09:48 AM
Answer by a Discount Golf World Expert
Yes, these covers can fit a Wood, Thank you for your inquiry.
Sunday, July 20, 2014 11:17 AM
Customers who bought Daphne's Reptiles & Amphibians Headcovers also bought

Daphne's Hybrid/Utility Animal Headcovers
Wide Variety, High Quality Material, Add Personality to Your Bag
The full manufacturer's warranty from Daphne's is only valid when the Daphne's Reptiles & Amphibians Headcovers is purchased from an Internet Authorized Dealer. We will match any Internet Authorized Dealer's best price on the Daphne's Reptiles & Amphibians Headcovers. The Daphne's Reptiles & Amphibians Headcovers may be referred to by the following terms: 710489145467, 710489200104, REPTILES/AMPHIBIANS ALL.
<![if !IE]> <![endif]>
Phone
Customer Service Hours
Mon-Fri: 8am-7pm CST
Saturday: 9am-5pm CST
Address
Discount Golf World
2828 Broadway St
Quincy, IL 62301
Email Sign Up!
Sign up for news and sale notices. Be the first to know!